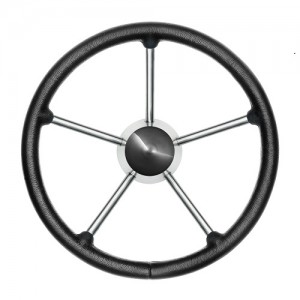 The Polyurethane Destroyer Wheel from Schmitt & Ongaro Marine features a durable covered rim that provides commercial mariners and recreational boaters the positive grip needed for optimal control when running in foul weather. Ideal for OEM and aftermarket installation, it makes the perfect addition to RIBs, skiffs, runabouts and small workboats.
Available in 14″ and 16″ diameters, the Polyurethane Destroyer Wheel has five polished stainless steel spokes for maximum rigidity. The solid steel rim is covered in a molded black UV-resistant polyurethane that has the look and feel of leather. With finger notches and just enough padding to reduce felt vibration, it offers a solid yet comfortable grip. A 22° dish provides sufficient steering clearance without sacrificing seating space. Fitting a 3/4″ tapered shaft, it comes standard with a black center cap.
NMMA certified, the 14″ Schmitt & Ongaro Marine Polyurethane Destroyer Wheel costs $120.10; the 16″ model is $129.10. It's available packaged for retail and in bulk with quantity pricing for OEM installation.
The original designer of the five-spoke destroyer wheel in 1965, Schmitt & Ongaro builds quality, innovation and value into each of its products. It offers a wide range of marine steering wheels, horns, control arms, windshield wipers and related accessories.
Contact Schmitt & Ongaro Marine Products, 1001 Ranck Mill Rd., Lancaster, PA 17602. 866-724-6488 (866-SCHMITT); Fax: 866-329-7679 (866-FAXSMSW). sales@schmittsteering.com. www.schmittongaromarine.com.