DESTROYER WHEEL MAKES TURNING EASY WITH CONTROL KNOB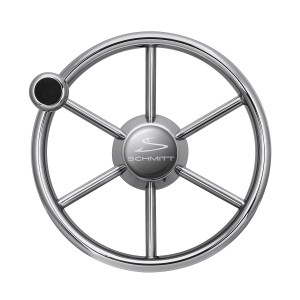 For ease of maneuvering, nothing beats a wheel control knob, especially in wet weather or when one hand is needed for the throttle. Schmitt & Ongaro's new 11″ Destroyer Wheel comes complete with this must-have feature.
Smaller in diameter than a standard wheel, it serves well in tight and restricted locations. Ideal for any boat, it's perfect for center consoles, fly bridges, RIBs, runabouts, crabbers and skiffs. When mounted on a stern helm station, it makes backing down safe and easy.
Crafted of strong, superior-grade stainless steel, the six-spoked wheel is highly polished for a low-maintenance, mirror-like finish. It's ideal for both salt and freshwater. Its ball bearing knob spins even in the most grueling environments. With its black center cap and control knob insert, the 11″ Destroyer Wheel's rugged good looks enhance any boat décor.
Developed for both refit and OEM, the solidly-built 11″ Destroyer Wheel with control knob fits a 3/4″ tapered shaft for ease of installation and maximum rigidity. With a 10° dish, it provides plenty of offset from the dash.
MSRP for Schmitt & Ongaro Marine's model 1531111K-H Destroyer Wheel with control knob is $241.80.
Schmitt & Ongaro Marine Products is the industry's foremost maker of innovative and exceptional quality marine steering wheels, horns, wiper systems, control arms and knobs, and accessories. Known for its superior customer service principles, the company offers some of the strongest product warranties in the industry.
Contact Schmitt & Ongaro Marine Products, 1001 Ranck Mill Rd., Lancaster, PA 17602. 866-724-6488 (866-SCHMITT); Fax: 866-329-7679 (866-FAXSMSW). sales@schmittsteering.com. www.schmittongaromarine.com.