Supplying ABA members with quality SS marine steering wheels
for the past 19 years.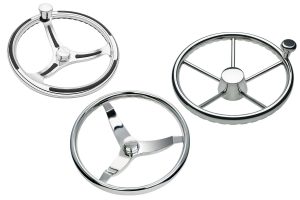 The American Boatbuilders Association (ABA) has named Schmitt & Ongaro Marine Products an exclusive supplier for stainless steel steering wheels, a position it has held since 1999. The contract is for three years and is a response to the company consistently providing the marine industry with exceptional products, service and support.
The ABA is the leading buying group for independent boatbuilders in the US. Through its members' collective buying power, it negotiates access to high-quality components and accessories at competitive prices. The organization also functions as an industry voice, representing its constituents with suppliers, governments and related industry associations. Founded in 1992, its website is www.ababoats.com.
"I am pleased that ABA and Schmitt & Ongaro have renewed our agreement for three more years. Schmitt & Ongaro provide our members with high quality stainless steering wheels at competitive costs," said Jay Patton, ABA president. "It's been a successful relationship for all parties and we look forward to a successful future."
Schmitt & Ongaro Marine manufactures a wide range of innovative and superior quality marine components and accessories. The company offers some of the strongest product warranties in the industry.
Contact Schmitt & Ongaro Marine Products, 1001 Ranck Mill Rd., Lancaster, PA 17602. 866-724-6488 (866-SCHMITT); Fax: 866-329-7679 (866-FAXSMSW). sales@schmittsteering.com. www.schmittongaromarine.com.