TORCELLO STEERING WHEEL GAINS EVEN MORE CUSTOM OPTIONS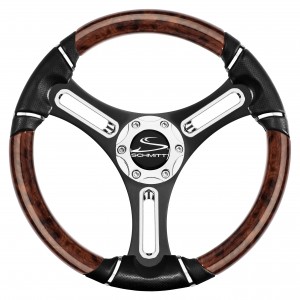 (Item No. Shown: PU051111-12)
In response to the need for ever-more adaptability in customization, Schmitt & Ongaro Marine introduces its Torcello 05 series marine steering wheel. Based on its highly popular and successful 03 and 04 versions, the new model provides the boatbuilder or owner an even wider range of creative possibilities to match and enhance a boat's décor. 
The most striking feature in the 05 series is the choice of rich burl wood- or carbon fiber-finished wheel sectors. Custom color and wood tone matching is available for OEM with a minimum order.
Also new for the Torcello 05 series is the choice of silver, burl wood- or carbon fiber-finished trim sectors. Customers can select from black, brushed or polished spokes, and optional chromed inserts. Finishing off the choice of decoration is a chromed scallop or black plastic center cap.
The Torcello 05 series features a grip that looks and feels like fine leather. Ergonomic finger grooves and spoke connection points add to the wheel's luxurious, yet solid hand feel.
The new polyurethane wheel features the same rugged construction that the Torcello name is known for. Measuring 14.2″ in diameter, the 05 series is the perfect size for a modern dash arrangement. It is available in 3/4″ tapered or optional splined hub.
The Torcello 05 series offers customers the ability to build the ideal steering wheel and maintain control over its final cost. It's the perfect choice for premium powerboats, pontoons, wakeboard and ski boats.
The steering wheel has an MSRP starting at $225.
Contact Schmitt & Ongaro Marine Products, 1001 Ranck Mill Rd., Lancaster, PA 17602. 866-724-6488 (866-SCHMITT); Fax: 866-329-7679 (866-FAXSMSW). sales@schmittsteering.com. www.schmittongaromarine.com.