THE TORCELLO LITE by STELLA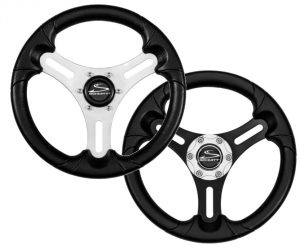 Schmitt & Ongaro Marine introduces a high-quality aluminum and polyurethane marine steering wheel with a price point that's competitive with all-plastic models. The exceptional yet economical Torcello Lite by Stella provides a sure, solid command of the helm and fits with any boat décor.
The Torcello Lite is made to the same high, demanding standards for which the Stella brand is renowned. Boatbuilders can upgrade from a basic plastic marine steering wheel to this premium quality version, with minimal impact to the boat's final cost.
The 13″ Torcello Lite features three satin silver or black anodized aluminum spokes with stylish cut-outs. The ergonomic grip is cowhide leather-textured black polyurethane with accent areas having the look of perforated leather. Its black center cap can be upgraded to chromed ABS for an additional charge. It has a plastic hub with a 3/4″ tapered bore.
Schmitt & Ongaro's Torcello Lite has an MSRP of $89.95.
Stella is a line of polyurethane steering wheels by Schmitt & Ongaro. Known for its superior customer service, the company is the industry's foremost maker of innovative and exceptional quality marine accessories.
Contact Schmitt & Ongaro Marine Products, 1001 Ranck Mill Rd., Lancaster, PA 17602. 866-724-6488 (866-SCHMITT); Fax: 866-329-7679 (866-FAXSMSW). sales@schmittsteering.com. www.schmittongaromarine.com.
Editor's note: See the Torcello Lite and other fine Schmitt & Ongaro products at IBEX, October 4-6, Tampa, Florida, Booth 1813.